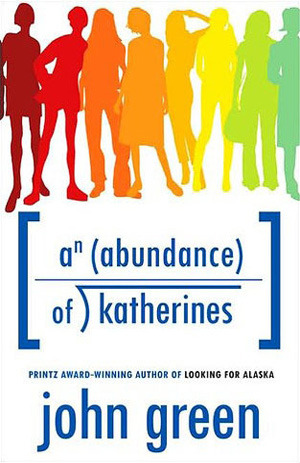 Title: An Abundance of Katherines
Author: John Green
Publisher: Puffin Books
Format: Paperback
Standalone/Series: Standalone
Pages: 264
Plot:
The plot feels like it's missing something. It's an interesting premise, that Colin is a boy who has a type that happens to be girls named Katherine, but it's not enough to carry the story. His search for a "Eureka" moment is not enough to support the plot.
13/20
Narration:
The narration distances the reader, partially because of the use of footnotes and tangents but mostly down to clinical observations by Colin. He's not a likeable character; I get that but I wish I felt something other than indifference towards him.
14/20
Character:
The characters come across like caricatures. The repeated phrases reduce them to little more than cardboard cut-outs. I've yet to find someone that either empathized with or liked Colin. The footnotes carry more personality than Colin.
12/20
Quality of Writing:
I found it more difficult to get into the story than usual – especially for a John Green novel. The writing is consistent and creates a clear picture of who Colin is but there seems to be a disconnect between the main body of text and the tangental footnotes. It feels like melting cheese and chocolate together – two voices working against each other, though neither voice carrying any individual merit. I give Green props though for trying something new.
15/20
Setting:
Green paints a picture of the fictional town of Gutshot, Tennessee in vivid detail. From Lindsey's cave to the campsite and everything in between, Green succeeds in anchoring his story in a definite place.
10/10
Comparative Literature:
ABOK doesn't carry any of the relatability and empathy that we feel for Haze Grace in The Fault In Our Stars. Even Will Grayson (the first – straight Will Grayson) in Will Grayson, Will Grayson, as a neutral sort of narrator is more interesting than Colin. Colin reads like a non-character. Charlie in Chbosky's The Perks of Being a Wallflower is the closest narrator within the genre with which I can make a comparison. Charlie writes intimate letters and we get to see the everyday life of teenagers in what is a real representation of them and some of the problems and feelings they go through. Charlie discovers more about himself and the people around him as the novel progresses. Colin, on the other hand, is just plain irritating.
5/10
Overall Score:
69/100
NOW SKIP TO THE GOOD BIT…
Plot is lacking
Difficult to empathise with the characters
Good scene-setting
Books You May Also Like:
The Perks of Being a Wallflower by Stephen Chbosky
The Fault In Our Stars by John Green
Will Grayson, Will Grayson by John Green